the smartest way to grow your online reputation
get to know your guests with our integrated ratings & review feature
here's what you get
4.2* to 4.7*  in 6 months on Google Reviews
how does it work
once diners pay with sunday, they'll be prompted to leave a star rating out of 5
redirect customers to your online platforms (Google, TripAdvisor, Yelp) where they will be encouraged to leave a written review. this is the best way to go from a 4/2 to 4.7!
get instant and granular feedback (good or bad) delivered directly into your sunday dashboard
managing and responding to reviews can be a pain. with sunday+reviews, we've made it easy by bringing together all your reviews into one place, regardless of the platform, so you can answer them in seconds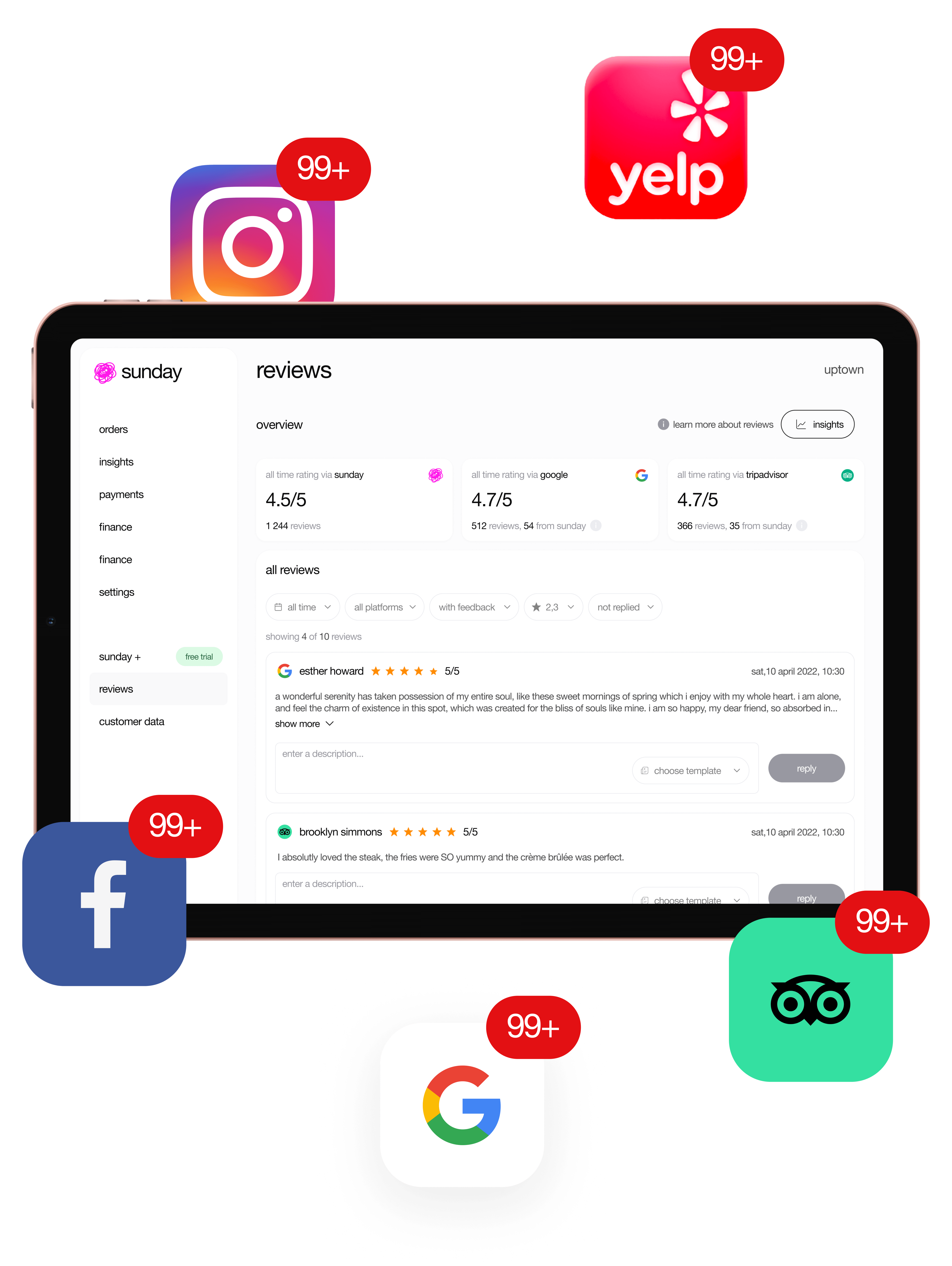 Fill this form to get in touch with our teams!
boost your reputation
sunday is not an app and so your guests will not find it on the App store or Play Store. the moment customers scan the QR code they are redirected to a web page giving them access to your menu and allowing them to pay at the end of their meal. no sign-ups, no downloads

do i need sunday Pay at Table to use reviews?

as a restaurant, you'll get the most from sunday+reviews if you use it alongside our payment solution. the moment diners pay the bill, they will be prompted to leave a rating and review. it's easy and quick for them and encourage feedback to be given

why would my online rating increase thanks to sunday?

we make leaving a review fast and simple for your customers. those that had an incredible time and left a 5* review, will be prompted to leave a written review online. you'll quickly notice the number of positive star ratings increase! couple this with the added benefit of paying via QR code and an improved guest experience, and your restaurant is set up for success! see how [restaurant name] has been using sunday+ [link to blog]

does sunday+reviews come with a loyalty program

under our sunday+ suite, we currently offer Ratings & Reviews and will soon have Loyalty. you can opt either or both depending on how far you want to take your business 🚅stay tuned!